Developer: Irem
Publisher: Irem
Console: TurboGrafx-16
Release Date: 1991

You are Tommy. You have a cape. You are… a superhero! This is all you need to know to get excited about this game. Why is the game called Legend of Hero Tonma when the character you play as is called Tommy is one of the many timeless unanswered questions not even Nostradamus can answer.

A princess has been kidnapped by the devil, or a some sort of giant demon, and will either kill her or make her his bride. I'm making up the story as I go because the game doesn't seem to have a story. So Tommy must use his inhuman ability of tossing minute fireballs from his fingertip to save the princess.

The gameplay is very similar to Capcom's Ghouls n' Ghosts, but with 100% less middle-aged men in their underwear. Tommy shoots fireballs and these can be upgraded many times to change the size and direction. You also collect useless bagsof gold and coins scattered around. You can't buy anything but it adds up to your score and eventually gain some additional lives. And you'll be needing them since you die with just one hit. I fucking hate not having a life bar, even if it's tiny.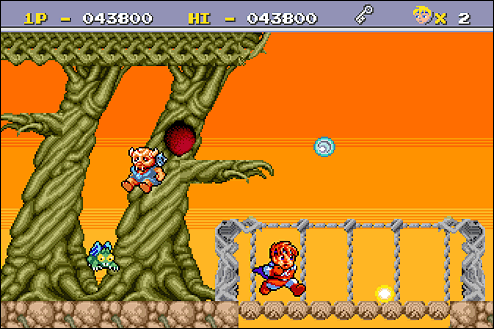 For such a simple and rather cute-looking game things can get pretty damn hard at times. Most enemies just walk left or right, but others jump in weird patterns and shoot crap at you in all directions. There are these rock totems that shoot at you like crazy, and you must dodge their shots while dodging armies of skeletons, bats and other shit that's coming to kill you. It's brutal, and not fun. The game is short, with only six stages and seven bosses, but it's hard, dull and monotonous, so it doesn't matter.

Even for such an old game the music quality is so bad it's embarrassing. I can't remember any of the music tracks, or even the sound effects. Maybe I had the speakers off, I honestly don't know.




I was disappointed not to find as much Engrish as other games of the early 1990's. Besides "Can you surely save the legendary princess?" and "The story of your brave rescue will be handed down through generations… …as a splendid legend." I can't think of any other, and those aren't that bad. You can always go back to Blue's Journey to get your Engrish fix.

There is no real reason to purchase this turd besides telling your friends how awesome you are because you own even goddamn Virtual Console release. If you are like this then you should walk around with a "I Suck" T-shirt at all times, you sad freak. Everyone else stay the hell away from Tommy and his fireballs.

Score: