Starring:
Dwayne Johnson, Madison Pettis, Kyra Sedgwick, Roselyn Sánchez, Morris Chestnut, Paige Turco

Director:
Andy Fickman (She's the Man)

MPAA Rating:
PG for some mild thematic elements.

Release Date:
September 2007

Synopsis:
NFL star Joe Kingman is in his prime: He's rich, famous and one of the world's most eligible bachelors. There's nothing that can throw him off his game. Nothing, that is, except for the emergence of the 7-year-old daughter he never knew he had. Now, with his team gunning for a title, Joe must find a way to balance crushing gridiron action with bedtime stories and ballet classes.

My Two Cents:
Dwayne Johnson has proven to be a huge success in the wrestling ring as The Rock, and has also proved he's got enough charisma and dedication to be a Hollywood actor. Disney saw his potential and turned an otherwise lame movie script into a box office success. Dwayne can slowly move away from his "Rock" persona and widen his appeal.

Movies don't get more predictable than this. A top football player who's completely full of himself learns about a daughter he never knew he had and while his life gets turned upside down he eventually succumbs to her charms and they live happily ever after. It's a Disney movie after all. I'm sure the little ones won't mind and will dig it, but adults who don't have kids or care much about them will not find enough here to keep themselves busy.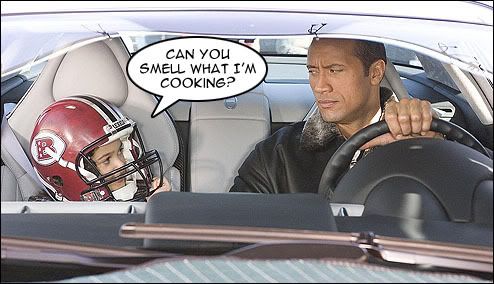 Madison Pettis is a cutie and holds her own on the screen with Johnson. She's not annoying or bratty, like so many other family-oriented movie kids. Her ballet teacher, fellow Puerto Rican Roselyn Sánchez, is Johnson's love interest but it never gets all mushy between them. They don't even kiss, which sucks for Johnson. The rest of the cast plays it out well enough not to suck, with the exception of Hayes MacArthur who's character is so stupid it's not even funny.

I like Dwayne Johnson, and it is nice to see him being awkward while practicing ballet with his little girl and having tea parties. He's not all about bashing foes with brute strength like he did in the ring. Johnson brings his most powerful weapon of all, his charm, and he will disarm you with it. The Game Plan is not super funny or original, but charming nonetheless.

Score: