So Shin Lord has already shared his review of the Transformers film from last summer. Now I'm going to give you my thoughts on the movie, since I was finally able to watch it. Shin and I differ very much about this movie though; he loved it, and I did not. So I'm basically going to give you a view of the movie 'from the other side', as it were. This won't happen with every movie that is reviewed of course, but I do want to give another look at this movie that was so huge last year, and almost universally received great reviews (but there are also people who didn't care for it, like me).

I'm not going to give a story breakdown because Shin already did that. I'm going to get right into the issues I have with this movie. It...has a lot of problems. I actually didn't have great expectations for this movie when I first heard about it anyway. I didn't think it would be done well, and probably couldn't be. And then I saw 'leaked' designs of the Transformers, and that sealed it for me. I thought they were awful, and all the more reason I didn't want to see the movie, and I thought it would be bad. I love the Transformers, and they were a grand part of my childhood, so I was not happy with how this was looking. But then it got almost universally great reviews, which surprised me. And since I could watch it for free (no, not through an illegal download...), I decided to give it a shot.

First of all, one of the universal criticisms (when there WERE criticisms that I saw..) I have heard about this movie is 'TOO MUCH PRODUCT PLACEMENT!11'
One of my co-workers said it best. It's the Transformers; it's product placement by definition. Firstly, they started as toys. But secondly, they all transform into actual...things (except Megatron, in this movie. He does not transform into a Walther P-38, or any other type of weapon. He's...a....Cybertronian jet, I guess). All the cars you see are real cars. But that's the case in almost every movie you see that has cars; they're all real cars. How come no one calls that 'product placement', or makes a fit about it? It's the same thing.

As for other product placements in this movie, yeah, I saw them. But...so what? Yeah, that computer is a Hewlett-Packard. Yeah, they said the name Nokia in regards to a Nokia phone. So what? It didn't ruin the movie for me.

No, there are other things about this movie that bothered me.

Yes, the teen love stuff was done very poorly, and largely a waste of time. It also didn't help that they tried way too hard to make Sam a complete loser that never gets girls. Okay. I get it. I don't have a problem with there being human characters, and, you know, trying to develop them. But Sam's loserness, if you will, was done poorly. Or...in some ways, it may have been done too well.

So Bumblebee could only communicate...using his radio. Why did they decide that Bumblebee can't talk, to begin with? I didn't understand the point of that. Also, communicating using only a radio; that sounds more appropriate for Blaster, who WAS a radio. Also, it was...too weird that when Bumblebee wanted to talk, he just...tuned in his radio and....played transmissions that happened to fit what he wanted to say, somehow. But how did he know what was, or was going to be on, radio broadcasts? Or did he record things he had heard before? If that's the case, okay, but SAY SO. Same thing with when he turned the radio to....'mood' music, when Sam was dealing with Mikaela. So....Bumblebee understands what 'romantic' music is? Or rather, what people think about music?

I also did not think it was funny when Jazz said "'Sup, bitches?" That....was really dumb. Oh yeah, let's make Jazz even more of a stereotype. Brilliant.

Frenzy was just annoying. Why did he keep making those dumb noises? Was there any reason FOR him to not shut up? He wasn't even talking to anyone. Also, I thought it was kind of weird that Frenzy transformed into a radio. Well, if they wanted that, why not obviously use Soundwave, who was a radio (and one of the most recognized Transformers as it is)? But then again, Frenzy was about as tall as a person, kind of like the original Frenzy and Rumble were. I guess that wouldn't do Soundwave justice if...he was....a tiny Decepticon.When the movie was finished and was shown in the movie houses, Brawl was incorrectly identified as 'Devestator' in the final cut. They had a good while to correct this mistake (which I can't imagine how it was even made to begin with) for the video release. But nope. This mistake is still there in the home video release. That may not sound like a big problem, but uh, yeah, I think it kind of is. they got a character's name wrong. There really isn't an excuse for something like that. and again, they could have changed it for the video, but still didn't. I call that sloppy.




I also wonder why did they feel the need to make up all-new Decepticons instead of using some of the original ones. Barricade and Blackout they just made up. Blackout is a helicopter, but why not just use Vortex? He would also go along with Brawl; they were both Combaticons. As for Barricade, he was a police car, and well, if they wanted to use a police car, the Decepticons didn't have any. The Decepticons actually had almost no cars...But they could have used one of the Stunticons. None of them were police cars though....So, I don't know. Barricade's existence makes a little more sense from that standpoint.

However, on the subject of Barricade....they did something....really stupid with him. In his police car form, on the side, it says 'To Punish and Enslave'. Seriously. And the Decepticon emblem was right there in the local police insignia. Oh yeah, those things will REALLY fool people into thinking you're a genuine police car. I mean, really. That was BAD.

Scorponok didn't really fit; he was the only one who was not a vehicle. He was a giant robot scorpion. Oh yeah, he really blended in well on Earth. Giant scorpions are all over the Middle East. Gotta watch out for them. He also wasn't that big. He was only bigger than Frenzy. That was kind of weird. Also, Scorponok was a weird choice to begin with. The original Scorponok was a massive, triple-changing 'city'-scorpion-robot. Actually, was Scorponok even a Transformer in this movie, or was he just a big, metal scorpion? He doesn't transform. Hasbro did make his movie toy transform but, uh....there's almost no difference. But we don't see that in the movie so it doesn't matter. The point is, Scorponok just doesn't belong here.

The overall Decepticon roster was weird, and random, anyway. We have Megatron and Starscream, who are essential. And then two they just made up (Barricade and Blackout), one who didn't fit (Scorponok), and then....Bonecrusher, for some reason, and who is originally one of the Constructicons, and then Brawl and Frenzy. They could have done...a lot better in thinking of Decepticons to use.

Also, the All-Spark was a little confusing. So I understand that it was used to basically bring life to machines. So it's...a pretty godly item to the Transformers. Okay. That makes sense, in its own way. But...what didn't make sense was...so...it has the power to only turn machines into EVIL Transformers??? Megatron wanted it for that purpose, of course, but...it looked like that was the ONLY thing it could do. We see the All-Spark's power turn machines into evil, destructive Transformers two different times, and it's evident that Sector 7 had done it several times prior. When we do see two new Transformers 'born' from the All-Spark, all they want to do is destroy everything. So how did the All-Spark go from basically helping create the entire TF civilization to becoming an object that only creates evil robots?

Also, the idea of transforming was confusing in one basic way. So, what we see happen is that the TF's, upon arriving on Earth, scan Earth vehicles, and somehow that gives them the ability to alter their appearance and then transform into that vehicle. Okay....Fair enough. But here's where it starts not making sense. Firstly, when Mikaela calls Bumblebee a piece of crap, Bumblebee drives away and looks for another Camaro, that looks just like him, scans that, and then he becomes THAT all-new Camaro. Bumblebee did look like he was in not too good of shape when we first see him. But...re-scanning another car, even of the same kind....basically repaired him. Also, he was able to scan another car, even if it was the same kind, and he could now change into that one.

So can the Transformers scan vehicles, and other machines, as often as they want, and basically, be able to transform into anything, at any time, as long as they scan it first? So then, why not continuously scan other vehicles to transform into so that the enemy doesn't know who you are? Because eventually, they will know what you transform into. So why not just re-scanning things? Bumblebee basically did just that.

But there's a better example. Frenzy did it, too. At some point, Frenzy is decapitated, but his head can survive on its own (unlike Bonecrusher, whose head could not do that...). He re-scans Mikaela's phone, and he could now transform into a phone.

This is something the original Transformers could not do, and that was pretty clear. Otherwise, again, I assume that they would all have done it, and be able to turn into anything at any time. Like the Megatron; he was a Walther P-38. That's not an impressive gun. If he wanted to be a gun, he could have picked a cooler one, if he had the ability to re-scan things any time.
I also learned that to stop a Transformer, all you have to do is spray cold gas on them. Before anyone says 'Well, they're machines..' and whatnot, yeah, but these are ALIEN machines with transforming powers, for God's sake...

It's also not clear to me why, if the All-Spark just sits inside a Transformer, the TF dies, and the All-Spark destroys itself. So how come the TF's don't die, or get damaged, etc. if they just touch it?

I also have to call complete horseshit on when Lennox falls off his motorcycle, and....slides gracefully, for a good while, actually, on his back, right under Brawl and is able to fire from below. No fucking way. I've seen A LOT of fakey things like that in movies, but THAT really was horseshit.

Also...Scott Ramsoomair, of VGCats, is NOT kidding when in his comic critique of this movie...he drew a Mountain Dew Transformer. That's likely one of the worst product placement moments that detractors of the movie really despised. Yeah...I understand that...

I was also disappointed to hear Megatron speak. Because he is played by Hugo Weaving, I was looking forward to at least that much.... But In all honesty...you can't tell. They altered his voice too much. They...made it deeper. Let me ask you something; if you want Hugo Weaving to voice someone, why would you want to CHANGE his voice?? you want Hugo Weaving for a REASON: Because he's Hugo Weaving. In all honesty, that could be anyone speaking for Megatron. they totally wasted Weaving's talent....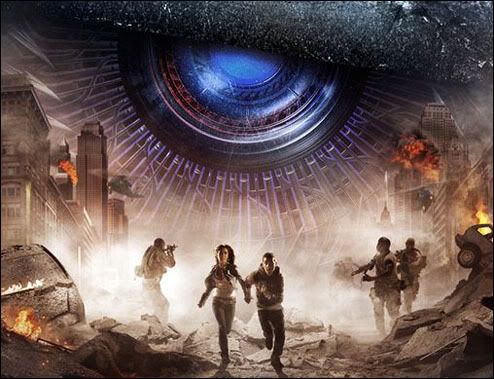 It was great to have Peter Cullen, who IS Optimus Prime (and currently does VO ads for various shows on Cartoon Network) be in this movie. That was definitely a plus.

The effects are top-notch, and do make the film nice to look at. And you really do have to appreciate it because it would have taken A LOT to get this guys to transform various times to and back. It is beautifully done. The robots do look pretty real, too, despite their designs... But I never had any doubts there would be great effects. That was never a concern of mine, and isn't a problem in this movie. However, it takes more than great effects to really make a great movie. And this movie....ain't that great. But again, it's not 'terrible', or even 'bad' either. It's just... kinda beh. It was way overhyped, and way overpraised. Nothing ever lives up to its hype anyway, but this movie was strangely overpraised as well, as being a really great film. I'm honestly not sure why that is. Some people said 'Oh I felt like a kid again!' Really? I sure didn't. I probably would have loved it if I was a kid, but well, far too late for that. I feel more like a kid again when I watch the original Transformers: The Movie, from 1986.

This movie is almost universally agreed on as a 'mind-blowing movie', as James Rolfe (AKA the Angry Video Game Nerd) said...But I sure didn't feel that way. It has too many problems that well...I really just could not ignore. I've seen many, many, many worse movies, sure, but that still doesn't make this movie that great. There's too much room for improvement. I sure don't think it was one of the best movies that I personally saw last year. In fact, all the movies I saw at the movie house (and there were not many...) were better than this one.

So. That's what I think. This is more or less what I expected I'd think of the movie anyway. I was not looking forward to it, and didn't think it would be that great, for a number of reasons. I was basically right.

Sadly, this movie belongs in the Sharkticon pit. Or sucked into Unicron and either crushed, or dumped into the acid vat.

I really don't want there to be any more movies, even though there is A LOT of room for improvement. If this the kind of thing they want to do with these characters in a film series, then I don't want it, and I'm not looking forward to the next one. I won't see it in the movie house either, but well, if I can watch it for free on home video, too, maybe I eventually will. I sure don't want to pay for it.