Starring:
Cillian Murphy, Chris Evans, Michelle Yeoh, Cliff Curtis, Hiroyuki Sanada, Rose Byrne, Troy Garity, Benedict Wong

Director:
Danny Boyle (The Beach, 28 Days Later)

MPAA Rating:
R for violent content and language.

Release Date:
July 2007

Synopsis:
With Earth's life source, the sun, dying out 50 years in the future, it seems the planet's days may be numbered. Humanity's only hope lies with a crew of eight astronauts transporting a device that will revitalize the sun. But a fatal miscalculation leaves the cosmonauts fighting for survival... and for their sanity.

My Two Cents:
I always appreciate when moviemakers try to come up with new, original material. Alex Garland wrote an entirely original plot, meaning that it wasn't based on a novel or on another sci-fi movie. It does borrow a few things from movies like Event Horizon, but overall it's fresh and different.

Fifty years in the future (2057) the sun has started to die and planet Earth has been covered in a solar winter. Plants, wildlife and people are dying. A spacecraft, the Icarus I, is sent to the sun with a massive bomb to re-ignite it, but something goes wrong and the mission fails. Seven years later, the Icarus II is sent with the last bomb available on Earth. If this second mission fails, life on our solar system will permanently end. 16 months after launching the Icarus II, as they fly over Mercury, the crew receives a distress signal from the Icarus I. Could they be alive? This makes Captain Kaneda (Hiroyuki Sanada) and the rest of his crew wonder if they should risk veering off their trajectory to investigate, or continue with their current course as originally planned. The decision ultimately falls in the hands of physicist Robert Capa (Cillian Murphy), who suggest it might be worth the risk if they can acquire the payload from the Icarus I, just to play it safe if theirs malfunctions. As you might expect, all hell breaks lose after this point.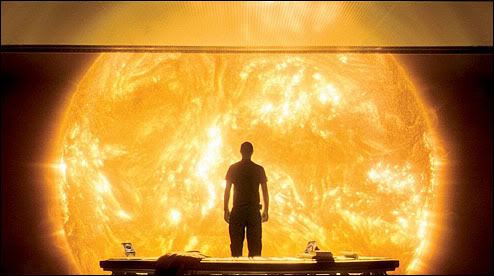 Everything about the first two acts of the film is awesome. It actually makes you think about what's happening, and what you would do in such a precarious situation. Every character is important and brings something to the table. There are also no comic reliefs, which is rare and welcome. The special effects are great, end the mood, atmosphere and original score is haunting. Sadly, the third and final act is a mess. The movie goes all Event Horizon and starts to get really confusing. At least in Event Horizon it is revealed that the lost ship had gone to hell and back, so it came packed with demonic forces, but what the hell happened exactly to the Icarus I? You'll have to find out for yourself, and you won't like the answer.

Even though the last half our or so is bordering on garbage, you'll still want to stick till the end to see what it going to happen. It's really too bad Sunshine took a turn for the shitty near the end, because it could have been one of the best sci-fi movies along with 2001: A Space Odyssey. It was a box office flop and a huge disappointment for director Danny Boyle. Better luck next time, buddy.

Score: