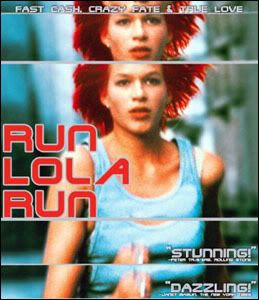 Starring:
Franka Potente, Moritz Bleibtreu, Herbert Knaup, Nina Petri, Armin Rohde, Joachim Król, Ludger Pistor

Director:
Tom Tykwer (True)

MPAA Rating:
R for some violence and language.

Release Date:
June 1999

Synopsis:
Time is running out for Lola. She's just received a frantic phone call from her boyfriend, Manni, who has lost a small fortune belonging to his mobster boss. If Lola doesn't replace the money in 20 minutes, Manni will surely suffer severe consequences!

My Two Cents:
With a title like Run Lola Run (Lola Rennt in German) you expect to see Lola run, and boy does she ever. She's running almost the whole 80 minutes of the film. As soon as the movie starts, Lola (Franka Potente) gets a phone call from her over-stressed boyfriend Manni (Moritz Bleibtreu). He's a petty criminal who has been doing jobs for a local big shot, but the idiot managed to lose $100,000 while trying to avoid the police. He left the bag with the money inside a subway car and a stinking bum took it. Now that's a lucky bum. Manni only has 20 minutes before his boss arrives, and he asks Lola to come up with a plan to materialize that sick amount of money, or he's as good as dead. Gee, that guy sure is husband material.

So what is Lola to do? She's starts running like hell toward the bank where her adulterous father works to beg him for money. He obviously refuses. Manni's time is almost up so he decides to rob a supermarket. Lola arrives at the scene and gets involved in the robbery to help out her man. As they escape with the money the police catch up with them and one of the officers accidentally shoots Lola in the chest, killing her. Damn, there's still about an hour of film left and Lola is already dead. But wait, something odd happens. As she is lying agonizing on the floor, Lola decides she doesn't want things to end this way and she is somehow transported to her apartment where she once again gets the distress call from Manni asking for money. What the fuck?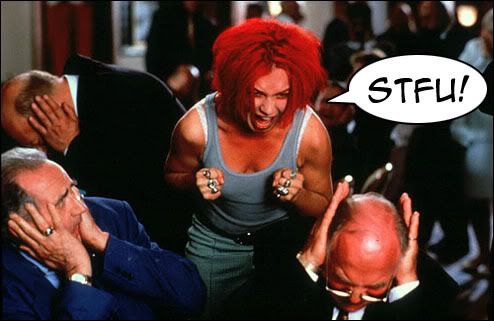 So she sets out in her quest to ask her father for money, but this time she falls down the stairs and that incident alone changes everything. On her previous run she interacted briefly with a bunch of people, and you could see what would become of them afterwards. One lady will win the lottery, one guy will get married, another woman will commit suicide, and things like that. At first it doesn't make much sense, but on her second run you can see how your whole life can change if you get somewhere a second later. It sure makes a huge difference for Lola and Manni. There are a total of three different versions of her run towards Manni, and each gets more and more interesting. This is something I had never seen before.

What's never explained is why or how Lola is able to change her fate, or if it's Manni who does it. It's also not clear if they remember their prior fates once they are given a second and third chance at life. Oh, and Lola can break glass when she screams, which made me wonder if anything was real or not. It doesn't matter, I guess, but it's still intriguing. Love is a mysterious force, so maybe that's what's happening here. Lola's love for Manni is so strong she's willing to do anything for him. Even though little time is used to develop the characters, you still root for Lola and want her to succeed. Lola does go into three very different stages: fear, anger, and self-control, and I can't imagine anyone but Franka Potente achieving this so well. Everything in Run Lola Run happens so fast, but it's very satisfying.

Score: