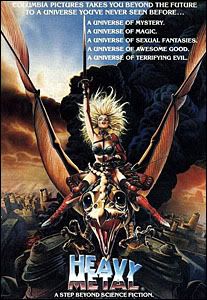 Starring:
John Candy, Eugene Levy, John Vernon, Harold Ramis, Percy Rodríguez, Richard Romanus, Caroline Semple, Vlasta Vrana

Director:
Gerald Potterton

MPAA Rating:
R

Release Date:
August 7, 1981

Synopsis:
A time and space-transcending green orb links together various stories of those who encountered it.

My Two Cents:
This movie is weird. It's pretty infamous for being just that. That, and violent. And having boobs. And it's animated. But there is something remarkable about this movie as well that is worthy of praise and viewing.

Now, my synopsis sounds confusing, but... well, that 's basically what happens in this movie. A green, sentient orb, called the Loc-Nar, is the common theme/element in this anthology. It's not really explained what this orb is exactly, except it describes itself as 'the sum of all evils'. It's also not clear what it really wants... but it's evil. You do get the idea that it's evil. And people all over time and space seek it out in an attempt to gain power. Now, you usually can't touch it with your bare hands; it disintegrates you. I say 'usually' because there is a story in which someone picks it up with no problem, and carries it with him. I don't think this is a continuity error; it was done on purpose for some reason. I'm just not sure what it is.

Anyway, the movie opens with the famous car flying through space and landing on Earth, and driving to a house. Yeah, that part makes no sense... But this is where the Loc-Nar appears, and for some reason, it wants to share some of its experiences with this now fatherless little girl. So all the stories in this unfold from the Loc-Nar telling them to this girl. I have no idea why the Loc-Nar cares what this girl thinks about any of this, and why the Loc-Nar wants the girl to know to begin with. The girl is probably not even listening because she's too terrified that a big, green glowing ball has just killed her dad and is eventually going to kill her.

The stories all vary in subject and art style. It's a wide variety, just the like the underground comic magazine, Heavy Metal, from which this is inspired from. It is inspired from works from such big-names as Dan O'Bannon, Bernie Wrightson, Richard Corben, Moebius, and others. As such, there is no uniform look to the stories of this movie.

The stories include:
Soft Landing: the intro part with the flying car in space. After it lands, the... astronaut drives to his house, where he releases the Loc-Nar for his daughter to see, and the Loc-Nar kills him, and begins telling his stories.

Harry Canyon: a cab driver of the same name in a futuristic, trash hole New York City takes in the fare of a woman on the run. She says the men after her want something she has; the Loc-Nar (although she didn't know what it was, apparently). Harry helps her get the money for the Loc-Nar, but the woman double-crosses Harry to keep all the money. Harry kills her with a disintegrator in his backseat he uses to ward off robbers and carjackers. This story actually is very noir and pulpish, and reminds me of something you might see in Sin City. Only, you know, not in the future, and not with a time and space transcending orb.

Den: A boy named Dan finds the Loc-Nar, which he thinks is a meteorite. After conducting an experiment with lightning, the reaction with the Loc-Nar sends Dan into some other realm; another planet or universe. It's not clear. In this world, the Loknar is worshipped as a god, and two opposing sides want to use its power. Also, Dan has turned into a big, muscular, naked adult named Den. He meets a girl, who is somehow also from Earth. He saves her from being sacrificed, but has to save her again. At the end, they fly away together on a giant bug. Den doesn't want to go back to Earth, and seems to understand the Loc-Nar is evil anyway.

B-17: The pilot and co-pilot are the only two crew left alive on board a B-17, during World War II. The Loc-Nar appears and follows the plane, and then boards, turning the dead crew into zombies. The pilot escapes and lands on an island, which, not coincidentally I'm sure, is full of the wreckage of other planes, from both World Wars. And the dead crew are still around as well, sealing the pilot's doom.




Captain Sternn: a futuristic space story in which Captain Sternn, who resembles Superman, is put on trial for a vast list of terrible crimes; 12 counts of first degree murder, 14 counts of armed theft 'of Federation property', 22 counts of piracy, 18 counts of fraud, 37 counts of rape (WTF???), and 1 moving violation. Good Lord, this guy is far beyond being an asshole or a scumbag. He's been charged with 37 counts of rape??? That's... just unspeakable and unthinkable... The trial is disrupted when Sternn's witness he hired in his favor transforms, Hulk-style, and rampages after Sternn... until he gets his payment, that is. But Captain Stern double-crosses his witness in the end. Apparently, it was the Loc-Nar, which was the size of a marble in this story, that provided these transformation powers... but that is not clear. So Beautiful, So Dangerous: this is more or less the story with the least purpose. Two aliens and their robot abduct a woman from the Capitol Building and fly away. There... seems to be no real reason for this either. Except that the robot wanted to have sex with her. Yeah. Maybe that was the whole point of their breaking into the building. I can't say. Also, the aliens just snort some form of alien coke and crash the ship anyway. What I do like about this story though is that their ship was shaped like a smiley face.

Taarna: This story is the highlight of the movie, and actually seems to be the whole end purpose of the movie. In yet another futuristic world, but still fantasy-looking, a band of barbarians became mutated (or otherwise transformed) when the Loc-Nar crashed into a volcano and... erupted green sludge all over them... The barbarians seek to conquer the land around them and attack the governing council. There is only one hope; the last warrior of the Taarna people. This is the woman on the front cover of the video, and poster. She never speaks, but she is a strong and skilled warrior, and sets out to take down the barbarians when she discovers who killed the council. She also swims naked to a statue where she gets her impractical and non-protective outfit, and sword. After she kills the barbarian leader, being critically wounded herself (uh, because she wears no armor), she rides her giant... bird thing... into the volcano of green sludge, where the Loc-Nar is. She must sacrifice herself to save the land. This is the story that seems to be the real point of the movie because the Loc-Nar telling the story to the girl is destroyed, and the girl is revealed to be... yet another of the Taarna. One of those giant birds appears somehow, and she rides away on it. Yeah, this all isn't really clear, since it's not explained. But transcending time and space is what this movie is all about.

The problem with this movie is that it has a lot of beautiful art, but it just doesn't always look good when it's moving, if that makes any sense. Some things in this movie just... look too weird when they are in motion, and would be best left as the comic work they are inspired or taken form. Some of the animation just looks kind of jerky and not too well-done anyway. It varies depending on what story it is.

However, this movie does deserve some credit for what it does have. Taarna in particular is great, and it has some beautiful background colors and backgrounds, period. There was no motion-capturing when this movie was made, but they used something else for this story. If I am not mistaken, the Taarna warrior was animated over footage of a model who performed her actions. Hence, the animation on her is often very smooth, and natural-looking. The segment where she is getting dressed is particularly notable, and beautiful to watch. But this movie all stringed together just makes for weird watching. Even if the Loc-Nar was explained more clearly, this is just a very odd movie. You'd really need to see it to even try to understand how odd it is. But I imagine there are weirder movies; like Eraserhead.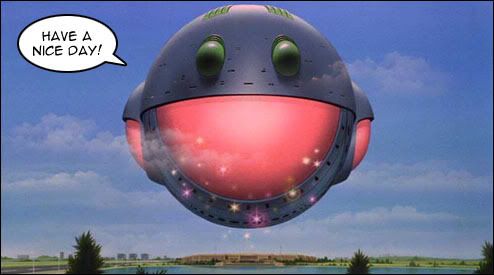 People always think about sex, boobs, nudity and violence when this movie comes up. Probably because this is non-Japanese animation that has all of those things. These things are not the..highlights or top points of the movie, I guess, but they do happen. If you think animated sex and boobs are weird, you'll just find this movie to be more bizarre anyway.

This movie was recently parodied on an episode of South Park, and I thought it was awesome. They specifically had parodies of Soft Landing, B-17, and Taarna, of course. The episode particularly made a big deal about boobs, and exaggerated the use of boobs that are actually in this movie. But it was pretty funny.

You know what this movie also has is... big muff. I mean... yeah, they're big. Do they even naturally grow that high? And... that thick? I just... want to point that out... *cough*

The other most noted thing about this movie is the soundtrack, which has... well, mostly rock. I wouldn't say any of this music is exactly 'heavy metal' though... But it does have two songs titled 'Heavy Metal', one by Sammy Hagar, the other by Don Felder (Felder's song was used in the South Park episode). Other artists include Devo, Blue Oyster Cult, Donald Fagen, Journey, and one of Homer Simpson's favorite bands, Grand Funk Railroad. This makes the soundtrack feel very dated, but the music also feels appropriate for the movie anyway. I must say the tracks were all pretty well-chosen, and a lot of people consider this to be one of the greatest or best soundtracks ever, if not one of the greatest or best albums ever.

There is another Heavy Metal movie, Heavy Metal 2000 (originally entitled F.A.A.K.-2), which was released in 1999, but it contained only one story, and is far from being as
appreciated and celebrated
as this movie is. Also, according to
Heavy Metal's web site,
another movie might be made; this one being CG animation, as you might expect. But it also says it probably won't have any of the stories in this movie in it; so in other words, this movie will not be a redux. It sounds like this movie is still up in the air though.

I think this movie is worth at least one watch, just to experience how weird it is, but also because there are aspects of it you can appreciate; especially if you're a fan of funnybooks, probably. You might end up hating the movie, or just otherwise disliking it, but well... I said Legend was 'something else' in my review of that movie. This movie is...probably farther out there, making this movie even... more of a... 'something else'. You decide whether that's a good thing or a bad thing.