Starring:
Dustin Hoffman, Natalie Portman, Jason Bateman, Zach Mills, Ted Ludzik, Jonathan Potts, Paula Boudreau

Director:
Zach Helm

MPAA Rating:
G

Release Date:
November 2007

Synopsis:
When the 243-year-old Mr. Magorium discovers his health is failing, he turns over his fantastical toy store to the quiet, depressed manager, Molly Mahoney. Since the store reflects the energy of those who run it, Molly must work to lift her spirits and help the shop recapture its magic.

The Good:
- Natalie Portman is still cute as a button.
- Jason Bateman, known as the Mutant, is likeable for some reason.
- Some of the toys in the store look so retro you wish you could own some.
- There's this one monkey plush toy that's always trying to touch Jason Bateman's character, but can't. He's just so adorable…
- There's no singing.

The Bad:
- It's a non-Disney, non-animated G-rated movie. Think about it.
- It is never explained how Mr. Magorium lived to be 243-years-old, or where he got his magical powers.
- When Molly discovers she can use her musical talents to control the store's magic, she starts waving her arms around like an idiot as if she was conducting an orchestra. Believe me, you have never seen more awkward movements from a human being before.

The Ugly:
- Molly's haircut makes her look boyish.
- Dustin Hoffman looks repulsive as Mr. Magorium, with his silly hair and oversized teeth.
- Little Eric Applebaum, the hat collector, has no friends because he's weird, but then befriends a 39-year-old man and invites him to his room without his mom's permission...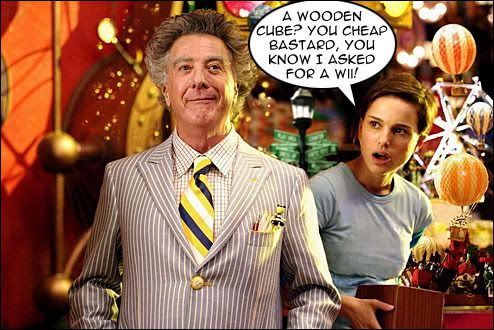 Bottom Line:
Leave this film for little kids who don't know any better, or if you MUST watch every Dustin Hoffman or Natalie Portman movie.