Starring:
Jackie Chan, Chris Tucker, Max von Sydow, Hiroyuki Sanada, Yvan Attal, Noémie Lenoir, Tzi Ma

Director:
Brett Ratner (Money Talks, X-Men: The Last Stand)

MPAA Rating:
PG-13 for sequences of action violence, sexual content, nudity and language.

Release Date:
August 2007

Synopsis:
After the Triads attempt to assassinate a Chinese ambassador, Hong Kong Police Chief Inspector Lee and LAPD Detective James Carter wind up in Paris, where they're both out of their element - tasked with taking down the organized crime family.

The Good:
- It's always amusing to see Chan and Tucker interact.
- Chris Tucker is back! I had not seen him since... well, since Rush Hour 2 in 2001.
- There has to be more good stuff but I can't remember...
- Ahh yes, the bloopers at the end. Funny stuff!

The Bad:
- Yet another Chris Tucker Michael Jackson impersonation.
- Jackie Chan is getting old and his action scenes are a whole lot milder.
- I don't think I laughed at any joke in this film.
- Ridiculous, over-the-top final showdown with the bad guy, Hiroyuki Sanada. Completely unoriginal and predictable.
- No Roselyn Sánchez.

The Ugly:
- That giant Chinese martial artists. What that done in CG? Freaky.
- Inspector Lee likes porn.
- Enough with the racial jokes. Blackanese, smelly Frenchman, etc. Not funny at all.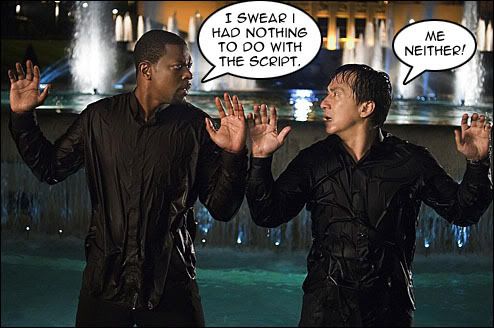 Bottom Line:
Brett Ratner and crew have squeezed all the milk this cow had to offer. It's time to move on to other projects. I can only recommend this to diehard Rush Hour fans, if such fans exist.