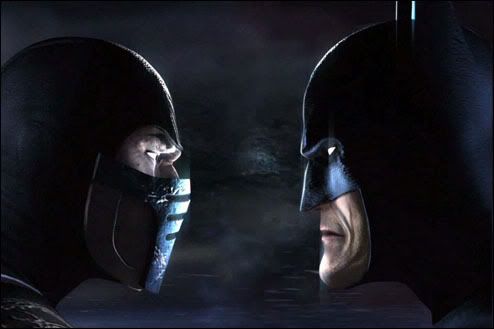 This is probably the least likely and most unexpected piece of gaming news I've heard, since at least Darth Vader and Yoda being in Soul Calibur IV...A crossover game is coming of... Mortal Kombat and... the DC Universe. Seriously. And weird.

Called simply Mortal Kombat VS. DC Universe (at least for now), will be, well, a 3D fighting game featuring MK and DC characters. The only revealed characters are the 4 most obvious ones; Sub-Zero, Scorpion, Batman, and Superman. There will also be something called 'Klose Kombat', which is descriebd as 'brutal, up-close fighting mechanic with damage, torn clothing, and bruising', and 'Freefall Kombat', which has not been specified.

Comic writers Jimmy Palmiotti and Justin Grey have been hired to write the story for this game. But there will be two ways in which this story plays out; one from the DC side and the other from the MK side, with each side being invaded by the opposite side's universe.

More should be unveiled at this year's E3 in the summer, with the game expected to be released in the Fall; for 360 and PS3.

Sources:
Newsarama
1Up
.