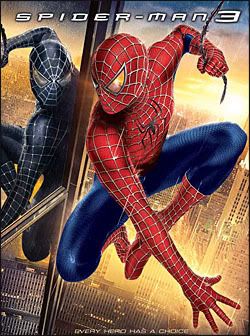 Starring:
Tobey Maguire, Kirsten Dunst, James Franco, Thomas Haden Church, Topher Grace, Bryce Dallas Howard, Rosemary Harris, Bruce Campbell

Director:
Sam Raimi (Evil Dead, Darkman)

MPAA Rating:
PG-13 for sequences of intense action violence.

Release Date:
May 2007

Synopsis:
While Spider-Man's superpowers are altered by an alien organism, his alter ego, Peter Parker, deals with new villains Sandman, New Goblin and Venom, while also getting caught up in a love triangle.

My Two Cents:
Not every franchise that makes its way to theaters gets more than two movies, and even if they do they're not always good. Spider-Man is considered by many to be the best comic book superhero series of films ever, topping Batman, Superman and the X-Men, but even though Spider-Man 3 was directed by the same director as the first two, this one is definitely the weakest of the trilogy.

The first two films were so good my expectations for the third were probably too high, but this was not why it's the weakest. Along the way we've been introduced to Peter Parker, Mary Jane, Aunt May, Harry Osborn, Norman Osborn and Otto Octavius. For an action movie there has been plenty of character development, making you actually care about these people and their relationships with one another. So the problem with part 3 is that they keep trying to develop all those characters while adding new ones like Flint Marko, Gwen Stacy, and Eddie Brock, all who deserve equal screen time. In Spider-Man there was only one villain, the Green Goblin, and in Spider-Man 2 there was also one villain, Doctor Octopus. The whole movies were devoted to them, giving the writers plenty of time to tell a detailed back story and the purpose each villain had for turning bad. In Spider-Man 3 you have three new villains, count them, three! So in two hours you have to share time for, hold on tight… Peter Parker, Spider-Man, Mary Jane, Harry Osborn, New Goblin, Aunt May, Gwen Stacy, Flint Marko, Sandman, Eddie Brock, and Venom. That's over 10 characters, not to mention supporting characters like J.J. Jameson, Uncle Ben, Dr. Connors, Captain Stacy, Bruce Campbell and a few others. Too many fucking people.

The new villains are awesome. Sandman's effects are insane, and his story is the most touching. He's not out to kill the citizens of New York for pleasure, he only wants to save his daughter and must steal to pay for her operation. New Goblin may not be a true super villain since he seems only interested in killing Spider-Man instead of taking over the world, but he's a villain nonetheless. The alien symbiote is the biggest threat, adhering to Peter Parker and slowly eating away his mind and then fusing with Eddie Brock to form the entity known as Venom. I don't have anything bad to say about the villains, but I wish they had saved Venom for a fourth movie or perhaps exclude Sandman from the third, as Venom is more interesting.

M.J. and Peter's romance has been hitting some bumps and things get extra shitty when Peter dons the black-suit. His personality changes from a nerd to an angry emo. Remember when Peter loses his abilities in Spider-Man 2 and decides to be Spider-Man no more? That "Raindrops Keep Falling on my Head" bit seems like an Oscar-worthy scene from The Godfather compared to Spider-Man 3's disturbing emo jazz dance scene. I fucking hate jazz! It's painful to watch, but at least it gives Peter a different look and feel from his regular nerdy self.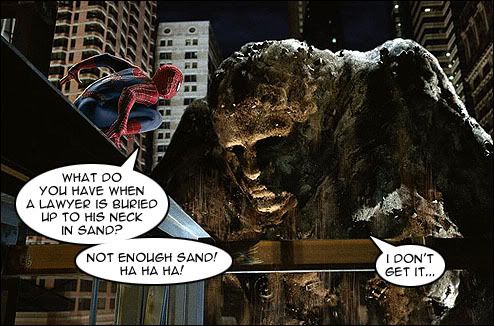 The action scenes are on par with what we've seen in previous films. Sandman is involved in three major battles, but sadly Venom is only in one. If you count black-suit Spider-Man as Venom then he's in two fights, but that would be cheating yourself. This is why Venom needed a movie for himself. But anyway, the action is fun, and the special effects are really good. The sound and music is also fantastic, even if Danny Elfman didn't score it. Christopher Young (Hellraiser, The Grudge) used the original Elfman Spider-Man theme and added new themes for Sandman and Venom, both which are pretty sweet. However, there was a great fight scene between emo Parker and Harry that had fucking jazz playing in the background. Did I mention I hate jazz?

Spider-Man 3 was the highest grossing film of 2007, beating other high-profile sequels like Pirates of the Caribbean: At World's End and Shrek the Third, as well as Transformers. There's no doubt Sam Raimi cares a whole lot about the characters and story and tried his best not to disappoint the hardcore fans and also entertain casual fans. It's action-packed, funny and still charming after all these years. Too many characters messed things up a bit and almost left Venom out in the cold, but what's here is enough to entertain and excite. If you've watched and enjoyed the first two films there's no reason not to pick this one up.

Score: