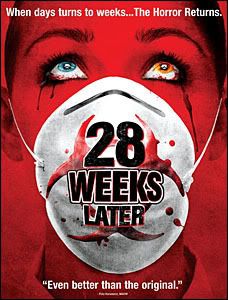 Starring:
Robert Carlyle, Catherine McCormack, Imogen Poots, Mackintosh Muggleton, Rose Byrne, Jeremy Renner, Harold Perrineau

Director:
Juan Carlos Fresnadillo

MPAA Rating:
R for strong violence and gore, language and some sexuality/nudity.

Release Date:
May 2007

Synopsis:
The inhabitants of the British Isles appear to have lost their battle against the onslaught of disease, as the deadly rage virus has killed every citizen there. Six months later, a group of Americans dare to set foot on the isles, convinced the danger has come and gone. But it soon becomes clear that the fight is far from over.

My Two Cents:
28 Days Later was a frightening and very disturbing horror movie were people infected with a rage virus turned into mindless zombies craving only fresh blood. These zombies were scary as hell because they ran as fast or even faster than normal people, and could instantly infect you just by biting or simply drooling on you. Even if it had a sort of happy ending, along comes a sequel, 28 Weeks Later, and it's just as hellish as the first.

The second time around you already know how these raging zombies behave, so the director had to turn up the gore and violence in order to make an impact on the viewers. If ultra violence is your thing you'll love a certain scene involving around 50 zombies and a helicopter.




For two hours you'll be biting your nails, suffering what the few survivors go through trying to stay alive. The visual and DTS sound effects, along with the music, will suck you in and never let go. The Blu-ray versions suffers from horrible grain, so you might want to consider watching the standard definition DVD. Yeah, it's that distracting.

The first movie was great, but the pacing was suddenly slowed down when the survivors enter a military complex and the movie started sucking after that. The sequel maintains the same level of excitement and horror throughout, and even though parts of the plot make little to no sense, like a woman who doesn't get infected because she has eyes of two different colors and a "boss" zombie that only seems interested in eating his own children, it's a better movie overall. Remember that there are a lot of gruesome and disturbing images, so try not to eat pizza or lasagna before watching 28 Weeks Later.

Score: