Starring:
Shia LaBeouf, Megan Fox, Josh Duhamel, Jon Voight, Anthony Anderson, Tyrese Gibson, John Turturro, Rachael Taylor, Amaury Nolasco

Director:
Michael Bay (Bad Boys, Pearl Harbor)

MPAA Rating:
PG-13 for intense sequences of sci-fi action violence, brief sexual humor, and language.

Release Date:
July 2007

Synopsis:
For centuries, two races of robotic aliens -- the Autobots and the Decepticons -- have waged a war, with the fate of the universe at stake. When the battle comes to Earth, all that stands between the evil Decepticons and ultimate power is a clue held by young Sam Witwicky. Sam and his friend Mikaela find themselves in a tug of war between the Autobots and Decepticons. With the world hanging in the balance, Sam comes to realize the true meaning behind the Witwicky family motto - "No sacrifice, no victory!"

My Two Cents:
It seems that every TV show that was cool during the 80's has been remade, or is being remade in the near future. One of these shows is Transformers, the animated series from 1984 about giant alien robots that could transform into everyday things like radios, cars, and planes. I was raised with the Autobots and Decepticons so if Hollywood messed this movie for me there would be hell to pay. Luckily for me, I'm a Michael Bay fan so I wasn't really worried about the outcome.

Yes, I'm a Bay fan, deal with it. I held my breath as Nicolas Cage tried to disarm the chemical weapon in The Rock, I cried when Bruce Willis was left behind in Armageddon and had an adrenaline rush as Ewan McGregor and Scarlett Johansson fled from The Island. Steven Spielberg executive produced Transformers, Michael Bay directed it and Industrial Light and Magic created the robot effects. How could you go wrong? On top of that you have the current almost teenage sensations Shia LaBeouf and the super foxy Megan Fox, as well as established actors like Jon Voight and John Turturro.




The first impression of the robots is one of shock and a bit of anger because they radically changed every robot design from the beloved animated series, and that was a very risky move for Bay and crew. Optimus Prime went from a "flat-face" cab over truck to a Peterbuilt cab. He also has blue flames painted on his body, not present in his original design. Bumblebee went from an old Volkswagen Bettle to a Chevrolet Camaro. Megatron no longer transforms into a gun, he now transforms into an alien jet. Soundwave was turned into a new very small robot called Frenzy that transforms into a boombox. Barricade went from a Formula One race car to a Saleen Mustang police car, which was apparently inspired by Autobot Prowl from the animated series. Blackout is no longer a bomber jet, and is now a big-ass MH-53M Pave Low IV helicopter. There was a Decepticon helicopter called Vortex but I don't why they didn't use him instead of Blackout. Jazz went from a Porsche 935 to a tiny Pontiac Solstice. Not a big deal but still worth mentioning. Ironhide was a red Nissan Onebox Cherry Vanette and is now a monstrous black GMC Topkick C4500 pickup truck. Starscream went from an F-15 Eagle jet to a much upgraded F-22 Raptor. Ratchet went from a white ambulance to a greenish customized Search and Rescue Hummer H2. Bonecrusher went from a bulldozer to a Buffalo H Mine-protected vehicle with a customized fork. Finally, Brawl went from being a Leopard 1 tank to a custom M1 Abrams tank. The shitty thing about Brawl is the he's called Devastator in the film because someone typed his name wrong and even though the writers complained about this twice, the Devastator typo made it into the final theatrical release. Devastator is actually a gigantic robot created by the merging of the six Constructicons (Bonecrusher, Long Haul, Mixmaster, Hook, Scrapper and Scavenger).

Now that I've gotten that out of my chest I can start talking about the film on its own. Don't forget the movie is based on an 80's animated series and toy line about fighting robots targeted to young males, so don't expect any Oscar-worthy acting or thought provoking plot twists. You'll basically get your eyes and ears bombarded by dazzling special effects and explosions for over 2 hours. The robots look amazing, with insane reflections, lighting and shadows. They interact with humans and with their surroundings in a very realistic way. The sound effects will rape your ears with metallic clanks, laser blasts, machinegun fire, engines revving and Megatron's scary voice, provided by Hugo Weaving. Having Peter Cullen reprising his role as the voice of Optimus Prime is a real treat.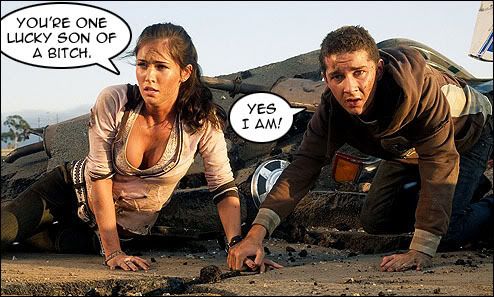 The humans also shine thanks to pretty funny dialog and awkward situations. Bernie Mac and Anthony Anderson's small roles provide much of the laughs, but Shia and his nutty parents are also amusing. John Turturro plays a guy you love to hate and Jon Voight plays a military man for the 100th time in his career.

Watching the Autobots fall to Earth from space, hiding out as vehicles, befriending humans and then fighting the Decepticons transported me back to my childhood and made me feel like a 7-year-old again. I watched the movie with my wife (24), sister (38) and niece (7), people who didn't care about the animated series or weren't even born by then and they all liked it, so there's something here for everybody. No wonder it grossed over $706 million dollars worldwide, not including DVD sales. I would have liked more robot on robot action, but perhaps they saved the best for the inevitable sequel. There's definitely more to this movie than meets the eye. (Ha! No one saw that one coming…)

Score: