Starring:
Barret Oliver, Noah Hathaway, Deep Roy, Sydney Bromley, Patricia Hayes, Thomas Hill, Moses Gunn

Director:
Wolfgang Petersen (Outbreak, The Perfect Storm)

MPAA Rating:
PG

Release Date:
July 1984

My Two Cents:
A young boy named Bastian has recently lost his mother and lives alone with his dad. He has lost interest in school and is constantly daydreaming. One day he gets harassed by bullies on his way to school and hides from them inside an old book store. There he meets the owner who's reading a book called The NeverEnding Story. This is a special book unlike any other ever written, but the old man tells Bastian it is not for him to read. As the man goes to answer the phone Bastian takes the book and runs off.

When he arrives late at school and find out there's a math test in progress he decides to enter the school's attic and start reading the book. It's about a fantasy world called Fantasia, where a terrible darkness known as The Nothing is destroying everything in its path. The citizens of Fantasia, including a goblin on a flying bat, a snail-riding dwarf and a gigantic Rock man on a bicycle turn to the Childlike Empress for help, but she has fallen ill and is dying. A hero is chosen to find a cure for the Empress, a young warrior named Atreyu. Along with his trusted horse Artax he sets out into every corner of Fantasia in search of a way to stop The Nothing and save the Empress.

Atreyu travels through swamps, deserts, mountains and pretty much everywhere in Fantasia but doesn't find a cure. Meanwhile, a wolf-like creature known as Gmork has set his eyes on Atreyu and will attempt to kill him so The Nothing can consume everything. Atreyu finally learns that the only way to save the Empress is for him to find a human child, and that child must give her a new name. Sounds easy, except for the fact that Atreyu doesn't even know what a human is.

Bastian gets so immersed in the story that it sometimes seems as the characters are aware of his presence, and that's exactly what's happening. He doesn't believe it at first, but he has the power to alter the book's ending. He is the one who must name the Empress.

I was about 6 years old when I first saw The NeverEnding Story and was completely blown away by it. The awesomeness still remains today, but the visual effects are a bit hard to swallow as movie special effects have improved beyond belief through the years. But the charm is still intact. This movie puts me under a spell every time I watch it. It takes me back to my childhood and sends my mind and imagination flying. There's no other movie quite like it. Every kid wished they could ride Falkor, the luck dragon, after watching the film.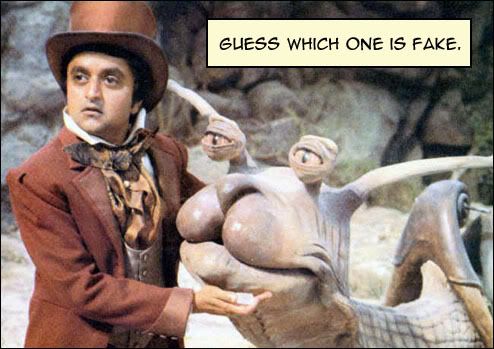 There's a cool scene with Atreyu and the Childlike Empress where he asks her forgiveness because he failed to find a human child. She explains that he didn't fail, that Bastian has been with him throughout his adventure since the beginning, and likewise, others (the people watching the movie) have been with Bastian before he even got the book. I always thought that was cool and it even freaked me out a little when I first heard her say that.

When I was a kid I thought The Nothing and Gmork were the same thing, but now that I'm older I finally understand that they're not. What Gmork tells Atreyu right before he realizes the kid he's talking to is the one he's been trying to kill all along is one of the strongest messages I've heard in a children's movie. He explains that The Nothing is what's left when humans stop having dreams and hopes for the future, and he has been helping it spread because demoralized people without hope are easier to control. Ain't that the goddamn truth.

If you somehow missed it when you were little or you haven't watched it in a while, The NeverEnding Story will take you to a simpler time full of magic and infinite possibilities. Be a kid again and let Falkor take you to the boundaries of Fantasia, and beyond.

Score: